Canadian Scholarship Winners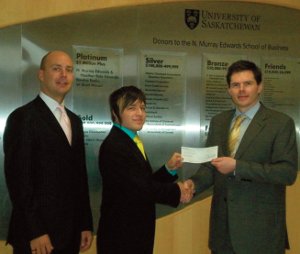 Pictured from left to right are District Manager, Matthew Chelsom and Scholarship Winner, Travis Wassermann presenting a $1,000 cheque to Dr. Grant Isaac, Dean of Edwards School of Business at the University of Saskatchewan.
2008 Campaign III Top 10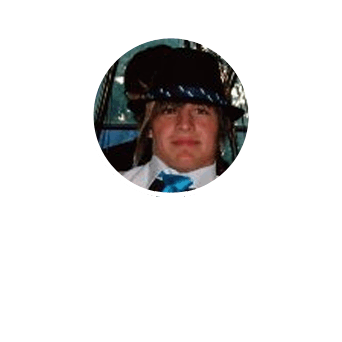 Saskatoon Office
University of Saskatchewan
"Wow, only 8 months into the business and already a number one scholarship win! Vector has been, without a doubt, the best job I have ever had because it's the first job that I've been able to treat as a career. It has taught me so much about myself as an individual and shown me that I can do anything I put my mind to. I have gained so many skills that I can use to get any career I desire later in life, and I have made so many new friends along the way. Thanks so much to all of my customers and new friends who have helped me in this amazing journey, and to all those who will help me in the future. 2011, look out, here I come!"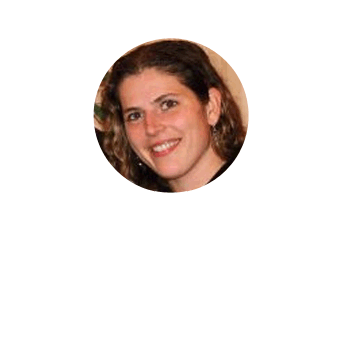 Montreal Office
Concordia University
"Before working with Vector, I never would have believed that I could succeed in sales. The Vector experience not only increased my self-esteem, but also made me a better person. This really was a great experience, allowing me to create a flexible work schedule around school, to continue horseback riding every weekend and I get to go to Argentina for 5 weeks! My success in sales is truly due to my amazing customers, great co-workers and my very patient manager, Chris Tammi. Thank you Montreal Vector Team!"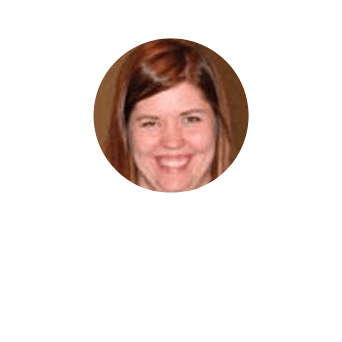 N. Edmonton Office
Grant MacEwan College
"2008 was a very exciting year! If you would have asked me in January of 2008 what I thought would happen over the next twelve months I would never have even guessed! I would like to thank Vector and my managers for giving me the opportunity to sell. I know for a fact that when they hired me they never thought that I would do as well as I did - I shocked myself, my family and Vector. My family played a huge roll in my success as they were always there to encourage me and to keep me going in the right direction. The relationships that I have developed with the awesome people that work for Vector is what I value the most out of everything that I have gained over the last year. Thanks to everyone who helped me along the way!"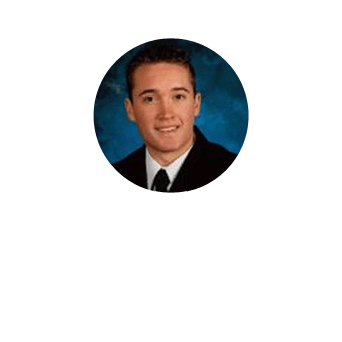 N. Edmonton Office
University of Alberta
"I have always wanted a job where I could work my own hours, be independent and have limitless opportunity to succeed. I just thought I would have to wait until I completed a university degree to get it. Vector has given me this opportunity and I am very grateful. Beyond the freedom Vector provides both schedule-wise and financially, the working atmosphere is one I have experienced nowhere else. It's like going to work with a bunch of your best friends but still being surrounded with the knowledge, leadership, and professionalism you need to achieve whatever you set your mind to. I would like to thank everyone from the Edmonton office, especially the management team, for helping me reach my goals! I look forward to reaching my goals with you in the next campaign."
Saskatoon Office
University of Saskatchewan
"This is my first scholarship with Vector and I am super excited about it! When I first started with the company I never thought I could love going to work so much every day. I am very interested in business, and the skills and experience that I have acquired through Vector will be something that I will use for the rest of my life, personally and professionally. What really makes this organization so great is the people who are involved. I have met so many amazing people and I am grateful for the support that everyone has shown. A special thanks goes out to everyone at the Saskatoon Office! Without the support of our outstanding team I would not be where I am today."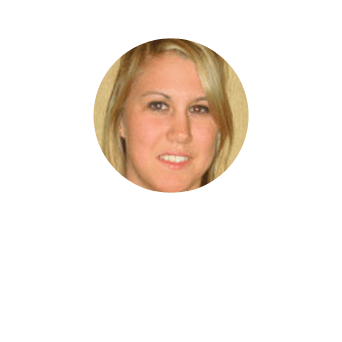 Saskatoon Office
University of Saskatchewan
"Winning my second scholarship was just as exciting as winning my first! I've always been the type of person who could only concentrate on one thing at a time. So at the beginning of this semester I was a little unsure about how I was going to be able to juggle school, demos, management training and other extra activities. However, after sitting down with my District Manager, Matthew, I was able to create a good schedule and to my surprise found that I was able to handle more than I thought. By setting up an efficient schedule, I was able to make time for all of my commitments. If I was not working with Vector this semester, I never would have learned how to manage my time and balance the areas within my life. Thanks again to everyone at Vector who continues to teach and inspire me to work hard and accomplish my goals!"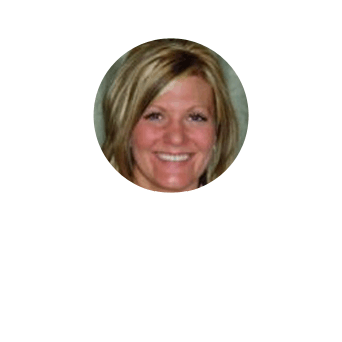 Calgary Office
University of Calgary
"Receiving a scholarship while piloting an office has been a huge accomplishment! Being able to go to school, work in the office, play volleyball, travel and win a scholarship is quite exciting! I have worked with Vector for three years and I have gained so many skills; like time management, public speaking and overall greater confidence that has helped me become a better person. Working with the Calgary Team has been a great experience. I could not have achieved this award without the leadership of Angie Macdougall. A special thanks to Brad, my parents and friends for their support in my success. I love my job and I am excited to see what my future holds with this company!"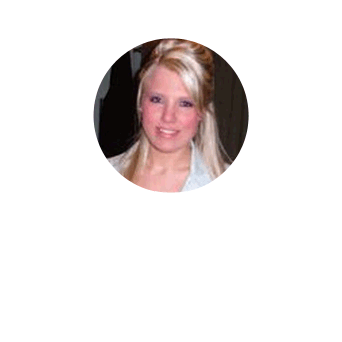 London Office
Fanshawe College
"This being the first scholarship I have won with the company, my Vector experience has been one of personal growth. I quickly learned that pushing myself to the boundaries would lead to positive results. What I put in is what I would get out! I would like to thank my District Manager Lindsay Allery and the rest of the London office for helping me reach the goals I set for this campaign. By working towards my goals and managing a busy schedule around school, playing hockey and management training, I learned the value of goal setting and time-management. I am looking forward to 2011 as I know it will bring many more exciting experiences for me!"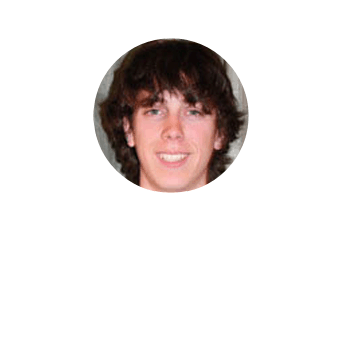 Montreal Office
McGill University
"Working around my first semester of Mechanical Engineering has helped me grow immensely. While my peers are in awe that I even dared to work around six courses, I learned the true meaning of time-management. Along with being a sales representative and an Assistant Manager in my office, I am undergoing training to run my own office this summer, which has been another great experience with Vector. This semester truly has prepared me for the future when time will be in even shorter supply. I owe Vector a tremendous amount of gratitude for this. I've realized that what I am learning here is going to put me miles ahead of where I'd otherwise be! Vector will help me become a great engineer and entrepreneur one day!"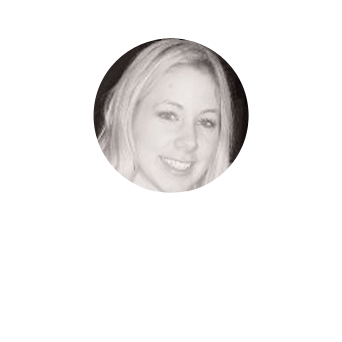 N. Edmonton Office
Northern Alberta Institute of Technology
"My time with Vector has been remarkable. When I first started, I had no idea just what I was getting into. The fact that in three months of working with the company I won a scholarship is really amazing. Vector is a company full of open doors! It's a nice change to find a company so committed to helping their people gain success. I don't know how anyone couldn't be motivated by the amount of free trips, scholarships and contests that Vector and the offices offer - just for doing your job! Vector has definitely helped me re-awaken my passion for learning and achieving. I really appreciate all the support from the office and the amazing people I work with as well as those I have met along the way."